Entrepreneurship propels Canada's economy, which is made up largely of small- and medium-sized businesses. The same is true of Eastern Ontario's economy. Each day, small businesses deliver goods and services to their customers, creating relationships and impacting their communities through charitable work. Each economy depends on the hard work and dedication of these entrepreneurs.
Small businesses across Eastern Ontario, from retail stores to restaurants, proved their resiliency by surviving the lockdowns of a pandemic. They pivoted and found creative ways to continue to serve and support their customers and communities. Small businesses — everything from a landmark jeweller to a family-owned bed and breakfast — make up more than 70 per cent of Canadian jobs.
Janet Campbell
owner of Mrs. McGarrigle's Fine Food
Mrs. McGarrigle's Fine Food shop has been in business since Janet Campbell began selling handmade mustards in 1988. Since then, it has grown and evolved to include fine foods, specialty items and products made by local farms and artisans in the Merrickville area. Its wholesale product line has won awards and expanded to more than 300 stores. For the past 10 years, Campbell has focused on local products. "I like mentoring people just starting out," she says. "I'm excited about new food and entrepreneurs and I'm proud to have them in my store."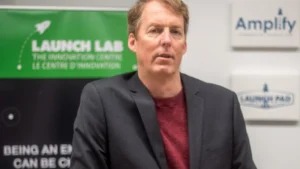 Launch Lab: A symbiotic relationship
"We don't do what we do without partnerships." It's a familiar refrain of Scott Runté, president and CEO of Launch Lab, a regional innovation centre that pairs entrepreneurs with its
Read More
Campbell's daughter, Hailey, has come back to work in the store, assuring the founder that the business will go on when she retires. With a staff of 10 people, Campbell believes she's created a little community within the store. Recently, Mrs. McGarrigle's has introduced charcuterie to go with cheeses from local makers as well as subscription boxes featuring local producers. Campbell is most proud of her olive oil selection, which she sources herself while taking small groups on tours to Italy.
Janet Campbell, left, owner of Mrs. McGarrigle's Fine Food, is now working alongside her daughter, Hailey, who guarantees a succession plan for the business.
Liisa and Robert Salzmann
owners of Clyde Hall Bed & Breakfast
"Clyde Hall is such a unique property and is considered by many to be the crown jewel in the quaint village of Lanark," say Liisa and Robert Salzmann, co-owners, who responded to our questions together by email. The two left jobs at a five-star hotel in Toronto five years ago to start their new venture.
Clyde Hall is more than just a B&B to the Salzmanns. Dedicated to supporting the community, the business donates to the local museum and hosts high tea each year. The Salzmanns served more than 1,200 people prior to the pandemic as part of the CFUW heritage house tour and helped to raise more than $40,000.
The pandemic was a huge challenge for Clyde Hall's owners. "It was scary, but we were determined to make Clyde Hall a destination that people want to come to."
Since reopening in June 2021, Clyde Hall remained at near-full capacity throughout the summer.

Rob McIntosh
owner of Rob McIntosh Unique Shopping Experience
What began as one store in Cornwall Square in 1979 had, at one time, grown to become 33 shops across Canada, with 16 pages in the Sears Wishbook by the year 2000. Success, yes, but it became too much of a good thing for owner Rob McIntosh and his family, who sell everything from chocolate and coffee to collectibles and games.
"There is a Rob McIntosh joke that we opened and closed 65 stores in 15 years," says McIntosh. "After downsizing to our one 23,000-square-foot location in Lancaster, the excitement became how to provide a quality, fun and energized retail experience."
McIntosh is proud of his Scottish Canadian roots and is a major supporter of the community of South Glengarry. "Enthusiasm and energy in a business translate into enthusiasm and energy in the community," says McIntosh, who is a significant employer in the area.
When asked what the future of Rob McIntosh Unique Shopping Experience will be, McIntosh responds, "I personally have no idea, but it will be fun."
Nick Gilmour
owner of Gilmour's Market
Gilmour's Market in Harrowsmith provides the surrounding communities with a one-stop place to shop for meats and other products from local farmers and businesses. With another location in Belleville and a growing investment company on his hands, Nick Gilmour has grown his business on community partnerships, sponsorship and excellent customer service. Giving back to the community is a huge part of what Gilmour's Market is all about. "Our role as business owners and entrepreneurs is to give back and to support the communities that support us.
"Our business is important to the community because we offer quality and convenience to a rural area," says Gilmour, who enjoys "starting businesses in areas that I know are under-serviced and against the common consensus of where a business could be successful, then watch that hard work pay off."
Gilmour's investment company is Nick Gilmour Inc., which helps individuals who want to get into business.
David Robinson
founder of Fractal Workspace
Fractal Boutique Workspace and Social House opened in the west end of Kingston in 2019 and has become a hub for small businesses and freelancers to meet, collaborate and work in a welcoming environment.
"The biggest impact we have had since opening Fractal is connecting like-minded people with other like-minded people who can often change their lives," says founder David Robinson, "Working as an independent can often be lonely and seeing how members make new friends and colleagues is beautiful."
Growing up in Sharbot Lake while working for his family's business taught Robinson the true value of community, family and business. Robinson's proudest moments have been raising his twins while starting his own business venture. The plan is to become a B-Corp, which measures success by the amount of positive impact it has on the stakeholders. "Business as a force for good is something I believe in."
Tarek Hussein
owner of Weller Pharmacy
As a frontline community, clinical and compounding pharmacist, certified immunizer, health-care management consultant and the owner and manager of Weller Pharmacy, Tarek Hussein's impact on the community reaches much further. Amid Hussein's many active roles within the City of Kingston, he is the 2021 chairman of the Greater Kingston Chamber of Commerce.
Hussein has been a pharmacist for more than 25 years and considers his roots to be in changing people's lives every day. "Our clients see us as a community hub as we deliver unparalleled customer experience beyond just dispensing medications," says Hussein, who's especially proud to have delivered more than 1,775 COVID-19 vaccinations within 100 days.
"Weller Pharmacy is the first pharmacy in Ontario designated as a sustainable business and a living wage champion," says Hussein. The pharmacy is dedicated to diversity in the workplace and was awarded the Greatest GHG Reduction Emissions Award in Kingston by reducing its carbon footprint by 21 per cent last year.

André Pommier
owner of Pommier Jewellers
Pommier Jewellers dates back to 1880, when the Pommiers, a family of watchmakers, optometrists and jewellers, moved from France to Montreal. After moving from Rockland, the Cornwall location has been operating since 1937 and was passed down to André Pommier in 1986.
Pommier considers jewelry-making his "magical work," but his love for helping people makes it about more than just the jewelry. "I'm a great jeweller, but I'm an even greater person to listen and have empathy for people," says Pommier. Pommier has grown the family business into more than he ever thought it would be. The store has become a landmark in the community, giving back to other businesses and donating pieces to the graduation classes of the high schools each year.
Pommier Jewellers has also grown in the pandemic. "People rely on our store for more than jewelry. People want an experience." Much of this success, Pommier says, is a result of Cornwall's strength through the pandemic thanks to unused savings from vacation funds, as well as his amazing staff, the booming demand by Canadians for Pommier's certified Canadian gold and diamonds and the company's striking ability to adapt its traditional business model amid the pandemic.