The Ottawa Real Estate Board elected a new board of directors for 2018. The new executive will be comprised of president Ralph Shaw; past-president Rick Eisert; president-elect Dwight Delahunt; and vice-president Deborah Burgoyne.
Moe Renaud was named Ottawa office leader for Mercer Canada, focused on delivering client strategies for health, wealth and career. Previously, he was the national sales leader for Mercer Canada's health business.
Harley Finkelstein was appointed to CBC/Radio-Canada's board of directors. Mr. Finkelstein is an entrepreneur, lawyer and chief of operations for Shopify. He was a recipient of the Order of Ottawa in 2016 and recently received Canada's Top 40 Under 40 award.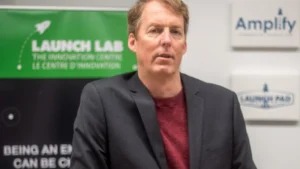 Launch Lab: A symbiotic relationship
"We don't do what we do without partnerships." It's a familiar refrain of Scott Runté, president and CEO of Launch Lab, a regional innovation centre that pairs entrepreneurs with its
Read More
Martello Technologies appointed John Proctor as president and CEO. Mr. Proctor brings more than eight years of experience to his new role. Prior to his work in the private sector, he served for more than twenty years in the Canadian and British Forces.
Hats off
ProSlide Technology was recognized with first place in the Best New Product in the water rides/attractions category at the Brass Ring Awards at the International Association of Amusement Parks and Attractions expo in Orlando, Florida.