Claridge Homes is poised to expand its retirement home portfolio with plans to construct an eight-storey, 159-unit building in Carlingwood.
The property, located at 200 Lockhart Ave., is currently home to a cash-strapped YMCA that sold its land to Claridge, which is one of the city's largest high-rise condo developers.
Neepawa Retirement Home will add to the Ottawa-based developer's two existing retirement residences – one in Kanata and one in Alta Vista, with another currently under construction on Industrial Road – run by Riverstone Retirement Communities, which is owned by Claridge.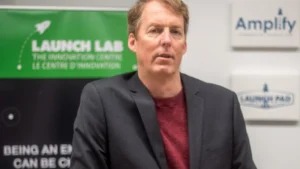 Launch Lab: A symbiotic relationship
"We don't do what we do without partnerships." It's a familiar refrain of Scott Runté, president and CEO of Launch Lab, a regional innovation centre that pairs entrepreneurs with its
Read More
Vice-president Neil Malhotra said the shift towards senior housing is to address upcoming demographic shifts, and that the company will continue developing similar facilities.
"It's a growing business for us," he said.
Other retirement residence projects beyond the first four have already been approved by the company, Mr. Malhotra said.
"It gives people the opportunity to remain in their neighbourhood," he said of the facilities across the city.
The Lockhart Avenue property is 39,579 square feet. Once completed, the retirement home will contain 105 independent living units and 54 assisted living units. Onsite amenities will include a dining room, games room, swimming pool, convenience store and library, according to a traffic study prepared by Novatech Engineering Consultants Ltd.
Claridge will construct the facility beginning later this year, Mr. Malhotra said, with an estimated opening date to be determined shortly.
On Tuesday, the city's planning committee endorsed the rezoning of the site from a community leisure facility zone to a residential zone with a height limit of 26 metres.
Who's involved?
Annis, O'Sullivan, Vollebekk Ltd. (surveyor)
Claridge Homes (developer)
DCYSA Architecture & Design (architect)
Goodeve Manhire Inc. (structural engineer)
James B. Lennox & Associates (landscape)
Novatech Engineering Consultants Ltd. (civil engineer)
Quadrant Engineering Ltd. (electrical/mechanical engineer)