An autonomous shuttle-maker will be among the first companies to put its vehicles through the paces at Ottawa's custom-made test facilities this spring.
United Kingdom-based Aurrigo, which develops self-driving pods for the "first and last mile" of transportation, arrived in Ottawa roughly a year ago. The firm announced last week it has signed a deal to test and validate two of its pods at Ottawa's L5 Connected and Autonomous Vehicles test facilities.
Managed by Invest Ottawa, the private L5 site opened last month as a safe testbed for autonomous vehicles and the systems that support them. Industry heavyweights such as Ericsson, Nokia and BlackBerry QNX have outfitted the site with millions of dollars in connectivity technology.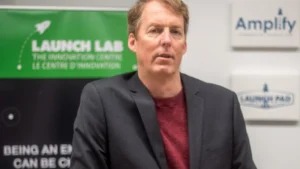 Launch Lab: A symbiotic relationship
"We don't do what we do without partnerships." It's a familiar refrain of Scott Runté, president and CEO of Launch Lab, a regional innovation centre that pairs entrepreneurs with its
Read More
"There is no place like it in North America to test," Kelly Daize, Invest Ottawa's autonomous vehicles program director, recently told OBJ. "My hope is it will allow us to adopt this technology faster and safer."
Aurrigo's pods will first be tested at the private test site off Woodroffe Avenue and later at the public track in the Kanata North tech park.
Aurrigo's vice-president of autonomous programs Chris Keefe tells Techopia the company's team from England will be in Ottawa in two weeks to map out the 16-kilometre private test track in Ottawa's south end. There, Aurrigo will test the pods' sensors and responses to signage and various communication arrays in a controlled and monitored environment.
Though Aurrigo's pods have been deployed recently in Asia and a few Scandinavian countries, Ottawa's climate offers AV companies a four-season testing ground available in few other locales. In an interview with Techopia on Monday, Keefe says he's left a pod sitting outdoors today to monitor any significant drain on the batteries.
"I'm a little sad we missed the dead of winter," says Keefe, who notes this past weekend's last burst of snowy weather made for a fun testing environment.
"Weather conditions that are less than ideal – sleet, snow, freezing rain – we have to contend with just like you would in any other vehicle. We really think this is the place to do it," Keefe told Techopia Live last year.
Aurrigo isn't the only local company that will benefit from having the pods on-site. Other companies, such as Internet of Things device-maker SmartCone, will be able to test how their smart city applications work with full-scale autonomous systems.
"We're going to find out what our integration together as a team is going to look like," Keefe says.