Clearford Water Systems' transition to a full-service utility provider has begun to bear fruit as the Ottawa clean-tech company's acquisitions boosted both its revenues and bottom line in the first quarter of the year.
On Monday Clearford (TSX-V:CLI) announced revenues of $2 million for the three months ended March 31, an increase of 21 per cent year-over-year. The firm's net loss in the quarter was $2.4 million, down from $2.7 million the year previous, aided by a positive foreign exchange gain on its U.S. dollar-denominated debt.
The clean-tech firm announced plans in 2017 to become an integrated water treatment service provider by acquiring Ontario-based assets in the field. To date, Clearford has acquired three companies as part of its consolidation push, the most recent being ASI Water this past spring. CEO Kevin Loiselle told OBJ after the deal was announced that the latest acquisition gives the company a "regular revenue stream."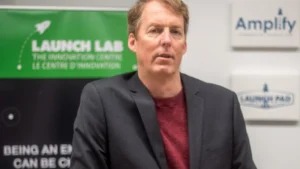 Launch Lab: A symbiotic relationship
"We don't do what we do without partnerships." It's a familiar refrain of Scott Runté, president and CEO of Launch Lab, a regional innovation centre that pairs entrepreneurs with its
Read More
The M&A strategy is having an effect elsewhere on Clearford's balance sheets. While the company has long had business ties in India, the newfound focus on projects in Ontario and New York state has reduced the company's sales and marketing expenses related to travel, for example.
Clearford also announced this week it had secured an additional $1 million in short-term financing to support working capital and pay down interest on existing loans. Significant shareholder and former board chair Rod Bryden has guaranteed the new loans.