Patent licensing firm WiLAN (TSX:WIN) (NASDAQ:WILN) said its third-quarter revenues and profits fell this year in part because it passed over several deals with the belief it could negotiate more favourable terms down the road.
"We could have closed one or more larger license opportunities that were in discussions. This would have significantly boosted the quarter," WiLAN CEO Jim Skippen said in a statement Thursday.
"However, in the long run we believed it was not in the best interests of WiLAN to do so because the amounts offered still did not reflect a fair value for the licenses. With significant cash on our balance sheet, we can afford to wait to finalize licenses only when we believe they are at a fair value. These are not lost license opportunities; we simply believe they have been pushed out into future quarters," he added.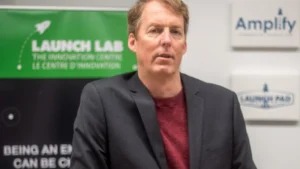 Launch Lab: A symbiotic relationship
"We don't do what we do without partnerships." It's a familiar refrain of Scott Runté, president and CEO of Launch Lab, a regional innovation centre that pairs entrepreneurs with its
Read More
The Ottawa-based firm said it recorded revenues of $16.57 million (all figures in USD) in the three months ending Sept. 30, a decrease of nearly 23 per cent from a year earlier.
Profits, meanwhile, fell by almost 21 per cent to $657,000.
WiLAN makes money by acquiring technology patents and then licensing their use – sometimes under the threat of legal action – to other companies.
It said the recent drop in revenues was caused by lower levels of fixed-payment licence agreements.
The company's share price was down a penny, or 0.7 per cent, to $1.40 on the NASDAQ in early afternoon trading.